Panel Discussion: The Fulbright Network – Strengthening Collective Action on Complex Global Issues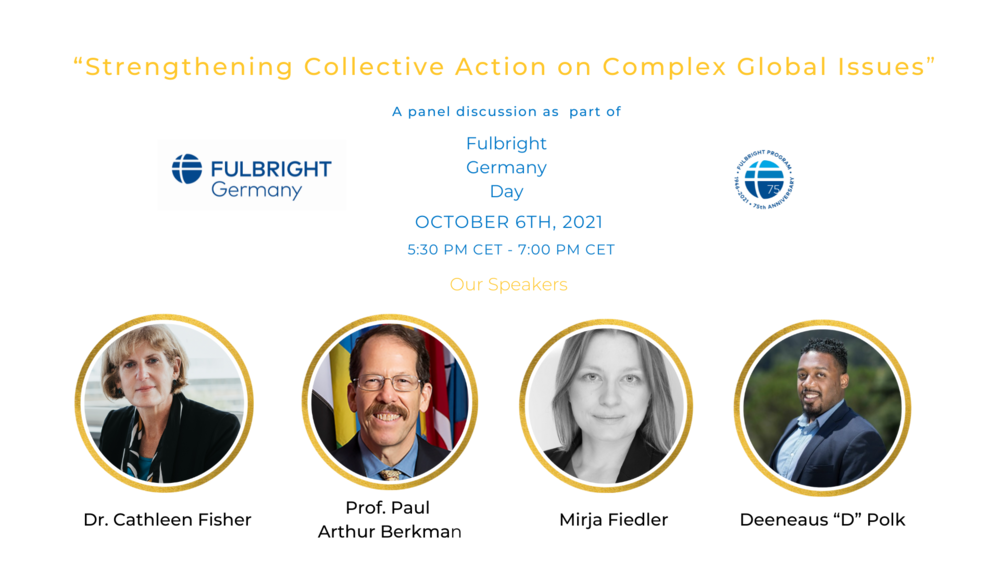 Fulbright Germany is pleased to join with the wide array of global Fulbright Commissions and U.S. Embassies in commemorating the 75th anniversary of the Fulbright Program with several events on October 6 that reflect the transatlantic bonds – from individual to binational – created and maintained by the program.
As part of Fulbright Germany Day, we will host a hybrid panel discussion, live-streamed internationally and entitled The Fulbright Network: Strengthening Collective Action on Complex Global Issues.
With opening remarks by Board Chairs, Elizabeth Horst (U.S. Embassy) and Vito Cecere (Federal Foreign Office), we are thrilled to engage with our community and our Fulbright alumni panel:
Mirja Fiedler (US University Grantee 2004/2005) – an anchor, correspondent and head of newsroom for German public broadcasters. She is a journalist working for the main TV news programs at NDR in Hamburg, covering the five northern states and world news. She is also reporting for the daily German national television news programs at ARD.

Deeneaus "D" Polk (English Teaching Assistant, 2011/2012) – a former Cheng Fellow at the Harvard Kennedy School who wishes to create a more diverse and equitable future workforce – and generally uplift communities - through 3LEVATE, a talent development solution. He has also served as Director of the Mississippi Apprenticeship Program (MAP), where he worked to expand apprenticeships in the state based on research he did on the German vocational education training system as a German Chancellor Fellow.

Prof. Dr. Paul Arthur Berkman (Fulbright Distinguished Scholar 2009) Fulbright Norway Arctic Chair 2021/22 – a science diplomat applying, training and refining informed decision-making to balance national interests and common interests for the benefit of all on Earth across generations. He is an internationally-renowned explorer, educator and author who has made significant contributions to the sustainable development of our world during the past three decades.
On the agenda: how do we carry the transatlantic relationship into the future with collective action, including at the subnational and civil society level, on global challenges such as climate change, the erosion of trust in expertise and the media, and the creation of a more just and equitable society?
The hybrid panel discussion will be live-streamed on October 6th at 5:30 PM CET on YouTube. Please note that the event will not be streamed with real-time captions. A recording of the event with captions will subsequently be made available and can be provided on request.