22.07.2021
Fulbright Stories
Back to Where it all Began: A Bulgarian-American in Berlin
By Sophia Warner | Grantee Experience (English Teaching Assistant)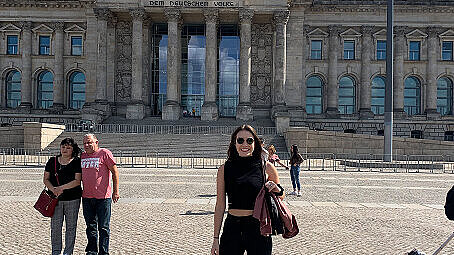 The Berlin Wall falls. Eased travel restrictions allow my father to fly from America to Eastern Europe. He meets my mother in Bulgaria's capital, Sofia. A few years later, their daughter Sophia—hallo, das bin ich— was born in Seattle, Washington. At the time, I had no idea that Berlin's story of separation and reunification would play such an instrumental part in my upbringing and identity. Today, I cannot help but acknowledge and reflect on the history that has since called me to connect cultures, countries and communities.
I am grateful to have been raised in a bilingual and multi-cultural home that emphasized the importance of celebrating, preserving, and sharing both American and Bulgarian traditions. A proud American-Bulgarian, I made it my duty at school to advocate for Bulgaria's representation in class, especially when my peers were often unaware of the country's existence. My yearning to explore Bulgaria's connection with the western world led me to my middle school's German language classroom and eventually culminated into an International Studies and German language degree from the University of Alabama. When I applied for an English Teaching Assistant position with Fulbright, choosing Berlin made sense. It was the perfect place to witness firsthand the unification and reconciliation of the forces that influence my identity and inspire my contributions to the academic and professional world.
My experiences in Berlin have exceeded all my expectations. I am thankful for our close-knit Fulbright community which has eased the transition of adjusting to a new city and helped share in some of my initial cultural shock. Throughout the year my Fulbright friends and I have regularly cooked together, celebrated together, and traveled together. We have worked together on overcoming challenges in our personal, social, and professional lives. Most importantly, we continue to encourage and support one another as we embark on exciting future endeavors. I am so grateful to have connected with such remarkable colleagues, and I am proud to call them my friends.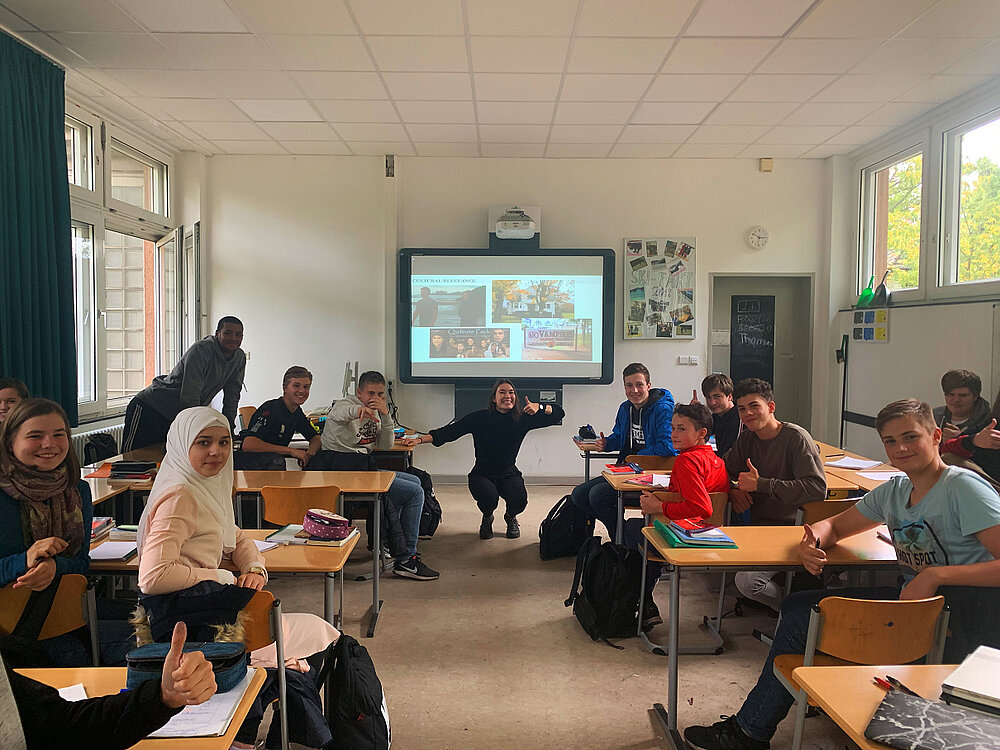 I have also formed life-long connections with the teachers, students and staff at the Carl-Friedrich-von-Siemens-Gymnasium. They played an instrumental role in integrating me into our school community, offering me advice, support, and encouragement—both inside and outside the classroom. With the help and guidance of my colleagues, I've connected to our class curriculum in a personal, creative, and engaging way. At the beginning of the year, our tenth-grade classes read Sherman Alexi's The Absolutely True Diary of a Part-Time Indian. My half-sister's relationship to the Quileute Tribe in La Push, Washington provided me with the appropriate platform to delve deeper into themes of Native American history and identity. Additionally, as our advanced English courses traced the turbulent timeline between the Civil War and the Civil Rights Movement, my connection to the state of Alabama provided students with a first-hand perspective of living and studying in the South. I engaged our students in the difficult, yet necessary conversations surrounding the injustices of slavery, segregation, and racism. Through virtual tours of the Birmingham Civil Rights Museum and the Equal Justice Initiative's Legacy Museum, our English classroom transformed into an active space where students could better understand the social, economic and political complexities of the South and how they contribute to the dynamic of the United States today.
In addition to providing students with academic support, I have also watched them excel in their use of the English language through a variety of experiential learning opportunities. I have witnessed the students on our debate team practice and perfect their public speaking and argumentation skills in class, eventually culminating into the execution of a friendly debate round against a neighboring school. I've watched with pride as our Business English students presented valuable marketing research to executives at N26, one of Europe's leading online banks. Furthermore, our school's partnership with the Erasmus+ exchange program allowed me to collaborate with students on various creative projects that were presented to their peers during conferences in Spain and Iceland. It has been incredible to watch our students use the English language as a conduit to connect with and learn from the international community.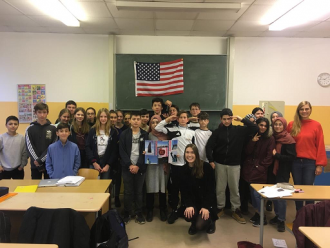 Overall, I am extremely grateful to have been part of a school community that creates an immersive and engaging foreign language experience for all of its students. I am also so lucky to have been surrounded by a diverse student body that challenged my worldview and asked questions that did not always have a straightforward answer. Through our conversations, I found a way to connect and share the two cultures that I am forever proud to represent. Serving as an English Teaching Assistant in Berlin has been the highlight of my young adult career—and now that I am back in the place where it all started, I cannot wait to see what lies ahead.