28.04.2020
Fulbright Stories
From Crisis to Culture Shock: How to Handle the Unexpected Abroad (Interview)
By Dr. LaNitra Berger | Fulbrighter Focus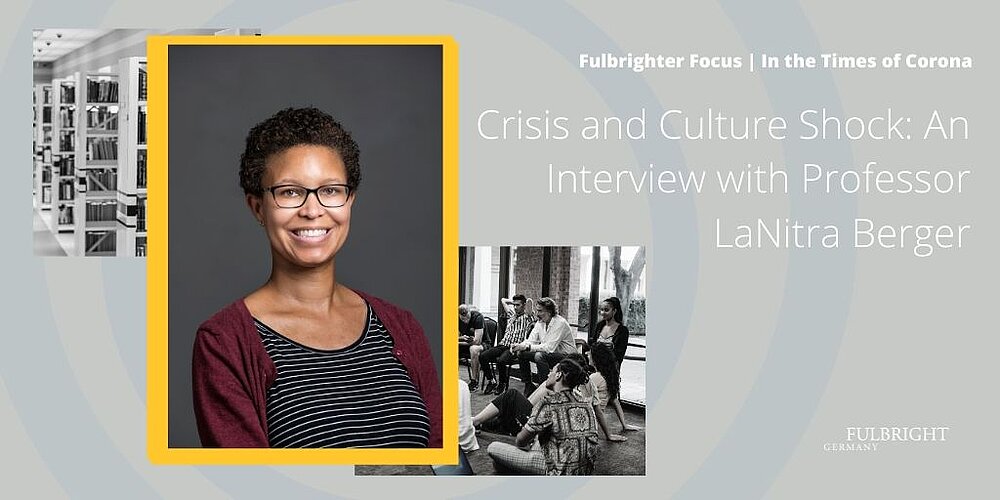 Crisis and culture shock are things no one hopes to face abroad. But put them together and they pack an even bigger punch. In these moments, whether it's the current coronavirus pandemic or something even more unexpected, it's essential to know how to react and how to cope. We talked to someone who knows a thing or two about cultural exchange and the complications that can arise: Long-time expert in the field of international education and diversity, Dr. LaNitra Berger. Her insights shed light on myriad things we can do personally to handle the challenges of new cultures, crises, and culture shock, in times like these and beyond. Read it all in her interview below.
Giving Graduates the Resources to Act: About Dr. LaNitra Berger
LaNitra Berger is the Senior Director of the Office of Fellowships at George Mason University and Vice President of Public Policy and Practice for NAFSA: Association of International Educators. Beyond these accomplishments, she has had a long and decorated career in the areas of diversity and international education. As a supporter of the European Fulbright Diversity Initiative and award-winning mentor and advisor for diversifying study abroad, she is an expert in what scholars and students experience abroad and how to help each individual have what they need for success in new and challenging environments. Her passion for supporting the needs of scholars of all walks of life makes her an invaluable resource for how to confront and come to terms with challenges and crises abroad, or even when you return home.
Handling Crisis and Culture Shock Abroad: The Interview with Dr. LaNitra Berger
Fulbright Germany: Thanks so much for speaking with us, Dr. Berger. We know that these days and the effects of the worldwide pandemic have presented many young scholars with hard changes and indeed a real shock that no one could have expected.
What are some things that you like to reflect on in moments of crisis and what can we learn from experiencing a global crisis while we are abroad or on our Fulbright experience?
LaNitra Berger: One of the most important life lessons is to accept how little control you actually have over events and outcomes. Much of what we think we can control is an illusion. In moments of crisis, it's important to reflect on what you can let go of so that you can grow intellectually, emotionally, and spiritually.
A crisis can help you distill what the most important things in life are, such as your health, your family, shelter, food. This is where the Fulbright experience, no matter how long or short, can be helpful. The flexibility and adaptability that you need to be successful abroad are the same skills that will carry you in difficult situations for the rest of your life.
We know that the pandemic will change us all and reorder our lives. The question for reflection is, how?
Fulbright Germany: How can we best meet and overcome challenging situations? Do you have simple advice that you can pass on to our grantees?
LaNitra Berger: My best advice is to do what you can to work towards acceptance of yourself and your situation. Think about ways you can reframe your relationship to your circumstances.
For some people, prayer, meditation, journaling, or therapy are helpful. It's also ok to cry, get angry, feel regret, and mourn. You may have one, or all of these feelings in the same hour or the same day. Don't resist these feelings and emotions. They are part of the acceptance and healing process. We are living in extremely difficult and challenging times, and there's no "right" way to handle or experience a pandemic.
Fulbright Germany: What can we do to mitigate reverse, or re-entry, culture shock when we have to return home abruptly and unexpectedly?
LaNitra Berger: This is the question that is most pressing for me as I work with my returning Fulbrighters and other grantees. Re-entry is difficult in normal circumstances, but there are even more considerations during a pandemic.
First, I want to acknowledge that overseas evacuations are forms of trauma and should be treated as such. To get home, many grantees have been in situations at border crossings, airports, or in their host communities that were frightening or disorienting. Some grantees have returned home to families that are financially ruined because of the collapsing economy. Personally, grantees may find themselves disoriented, confused, and jet-lagged.
You might replay your final days in-country in your mind, or you may have vivid dreams or nightmares. Finally, you might feel "guilty" about mourning the early end to your Fulbright grant while people are dying of the coronavirus or have lost their jobs.
Although expressing gratitude for what you have is an important aspect of persisting through a crisis, recognizing and nurturing the full range of feelings is also a healthy part of your recovery. Make time every day to think or write about the good and the bad parts of your experience abroad. Create a support network of trusted family, friends, and medical professionals, and academic advisors who know your situation and are willing to listen to you talk about it. Connect with your university study abroad office and the alumni association to see what resources they provide for returning students and recent alumni. If possible, seek professional counseling.
When you're ready, bring the Fulbright spirit of mutual understanding to your community by sharing your experience more broadly online or through social media. For example, with so many children stuck at home and out of school, sharing stories about your time abroad with a local school is a great way to process your emotions while encouraging youth to deepen their curiosity about the world.
Even though your grant has ended, the Fulbright ethos of cultural engagement and valuing difference will be with you forever.