22.09.2020
Fulbright Stories
How Cultural Exchange is a Hands-On Way to Build Peace (Interview)
By David J. Smith | Fulbrighter Focus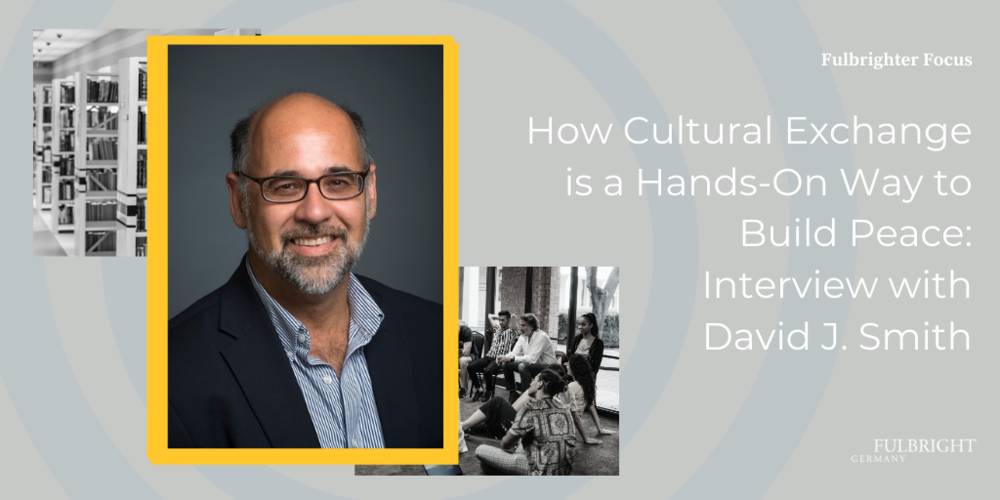 Studying and researching abroad provide not only great experiences but essential tools for a peaceful world. Peacebuilding expert and Fulbrighter David J. Smith sat down with us to discuss how exchange can expand horizons and how we can use this knowledge to build up our communities, even in the times of coronavirus and social change. Read on to find out concrete steps to build peace even in trying times and how being abroad as a Fulbrighter or beyond can help people give back.
Hi David, thanks for speaking with us! I'd like to start easy with a simple introduction. Could you tell us a bit about who you are and what you do?
I'm glad to be here. I'm David Smith and I'm based in Washington, DC. I was a US Fulbright Scholar in 2003-4. I taught in Tartu, Estonia and, at the time, I was teaching at a college in the United States and I had the opportunity to go overseas and teach peace studies and conflict resolution which is really my field. Today, 17 years later, a lot of my work still revolves around promoting conflict resolution in the workplace, in the family, and globally. I focus on a broad focus of peacebuilding which is a component of conflict resolution work. That's mostly in my consulting work.
The other thing that I do is that I'm a career coach. I try to make those connections between fields like conflict, international education, humanitarian work, development, and careers because I work with a lot of people who are moving or are trying to move into those career areas.
I teach part-time at George Mason University, so that's kind of the quick litany of things I do. I'm also currently serving as president of the National Capital Area Chapter of the Fulbright Association.
Through your years of experience in the field of peacebuilding and conflict resolution, have you developed a clear meaning of what peacebuilding means to you?
So, peacebuilding is an evolving concept that is now encompassing lots of different areas and different approaches that come down to building stability, promoting community, advancing equality and equity, and providing security within communities through non-violent approaches. So when we're looking at building peace, what we're doing is building the underpinnings for a stable, peaceful society and that's what I embrace.
I look at peacebuilding as a lot of different things. Part of it is activism, so, for instance, I see the activism that's going on in the United States right now, the Black Lives Matter efforts, and other things to promote social justice, as part of peacebuilding. I also find that conflict resolution is a part of peacebuilding. Education is an important component of peacebuilding. All of those things are things that I work in and all of those things provide the underpinnings of what you do in this field.
If you had to take the temperature, to check for fever if you will, of peacebuilding efforts in our current times, what would it be?
So let's see, Fahrenheit or Celsius? I would say that it's warm overall. Overall, globalization is often a positive thing in bringing people together, but globalization has its downsides.
So as we get to know each other we also, by globalizing, exacerbate inequity across the globe. If you think about it, it's a bit of both, things are warm but are going in the right direction. But for all the new things that are brought about by building peace, communication, intercultural exchange, like Fulbright, for all these things there are also commensurate challenges that come, which we are facing.
Are there any things you see, small changes in perspective, that individuals or communities can do to get back on track to a more understanding future?
So I think there are a lot of things people can do on an individual basis. I mean, being empathic with people, being patient with people, opening their hearts and minds are, I think, very basic things you can do to promote peace in your family, in your community, and in your world. I think that if we only focus on our own situation, our own needs, we often miss the ways that we can promote a greater good for a greater population.
Often what you find is that people are trying to get to the big thing, so they think "I want to shake things up, I want to make significant changes." But I also ask people to step back and to recognize the small things they can do in big ways in their own communities and challenges in their own neighborhood or their own cities and towns and things that really have to do with bridging communication with people who are different.
So for instance you look at what is going on in the United States with regard to the protests and advancing social justice in the United States there is a need for a lot of people to be out there and to make a change. Having said that, not everyone can do that so there are smaller things you can do within your own community that are important also.
As a Fulbright alumnus yourself, do you see any overlap between global exchange like what Fulbright programs offer and this way of seeing and viewing small changes?
One of the things that I would remind people of is that the impetus for the Fulbright Program, Senator Fulbright's notion, was really a program that would promote international peace and understanding.So there's a quote that I often use that Fulbright said in 1976 at the anniversary of the Fulbright Program:
"International educational exchange is one of the significant current project designed to continue the process of humanizing mankind to the point we would hope that men could live in peace..."
Men and women, of course, and we're in a situation where we're thinking about many identities.
"... eventually even to cooperate in constructive activities rather than compete in a mindless contest of mutual destruction. We must try to expand the boundaries of human wisdom, empathy, and perception. And there is no way of doing it except through education."
So that's saying that the raison d'être of the Fulbright program was to accomplish that mutual understanding that's so important and was present, or the need for in particular was, after World War Two. That is so critical in our understanding of what we do as Fulbrighters.
In an article you wrote for Huffington Post way back in 2017, you said "A key to peace is empowering young people with the tools to identify the challenges in their communities, develop the strategies to respond, and then assemble the expertise and resources to get it done." What would this concretely look like for you?
One of the things to recognize is that as we develop, as we age, as we progress, we often get ensconced or hardened in our views of things. Actually, when you are younger, it's the best chance for us to develop ideas, we have the most idealism. We really need to start young in promoting peace and understanding.
When you set the right steps in motion with young people then it can continue. So it starts with teaching and training young people about what needs to be done. And the challenges can be local or global. Having for instance programs in education for young people to bring people together who are different from each, in terms of background, in terms of age, become really important in trying to plant the seeds for what they would do in their community and in their work.
Good intentions are really important in all of this but actually educational programs, immersion opportunities, exchange programs are really important. So, for instance, you would think about Fulbright, which tends to be an exchange program with adults we would say, right? But we have a lot of exchange programs with younger people including US State Department programs, and those are important.
Going back into your archive, during your TEDxFulbright, you mentioned that the way people go about doing things can contribute to peacebuilding, "As the means so the end" was your nice formulation. What are 3 steps individuals can take in everyday life to ensure their communication and actions, their means, contribute to a more peaceful environment, either personally or globally?
To go back to this idea, it's how we go about things that is so very important, because it sets the tone for the results that we get. "As the means so the end" which is a quote from Mahatma Gandhi. One of the things that we should do is that in the process of doing things, we really need to focus on how we go about doing it.
There are 3 things to think about.
One is that when we are engaging with people, we need to deeply listen to them fully and try not only to understand what they are saying but the spirit they are coming from and the motivations that they have.
The second thing is how we respond to what people say. We have to respond with curiosity, we have to respond by showing interest and a desire to be helpful so that the listening and the response become really important.
And the third thing is that words can't be empty words, that is, they need to lead to action.
Often, we're in situations where we're having conversations with people, we're listening deeply, we're responding with a full heart, asking questions, then we think about what we can do and sometimes either we're not prepared or we say things that we are not prepared to follow through with. That is often the most critical thing in all of this. That is, when we see something, and we want to take action, and we commit to it, make sure that our commitments are followed through, and we do something about it. So those are the three things that become really important in this process.
For global scholars and even Fulbrighters affected by today's unexpected circumstances, are there any resources you could suggest or that the community offers them?
Yes. The first thing that I always tell Fulbrighters is that because you are a Fulbrighter there are resources that exist within the network of Fulbright. And I'm not talking about the US State Department or even country commissions necessarily, even though country commissions like Germany are really helpful. But I would say, for instance, look for an association like your national commission or look at a chapter and go there first. Because what you would find is more senior people that have gone through the Fulbright program that can be helpful to you in making connections and directing you to resources. So that's the first thing I would say to do.
The other thing I think is that groups are starting to form organically be they on Facebook or other means. I think you can search for those groups and connect with them and ask questions of people within those communities on things where you're struggling. So it's out there, it's really out there. It's a little organic. Starting with your own connection to the Fulbright world I think is a good starting point and doing that first is probably what you should do.
Part of a peacebuilding mentality is understanding and dialog. What are ways that communities and the individuals in them, Fulbright or others, can listen to and support each other in times of crisis?
One of the things to recognize is that it's a unique exceptional eye-opening experience. People are choosing to go on a Fulbright because they have something exceptional to offer and then during the Fulbright experience, there's a lot of learning that takes place and you learn because you're in a different culture for an extended period of time. You learn how to show humility, how to cooperate, how to navigate a system that you are often unfamiliar with. You're learning from the people that you are living with and the community that you are part of. All of these are really important skills that have application in other environments. That is, if you think about the social change that is being sought in the United States and trying to be advanced, the skills that you learn as a Fulbrighter in navigating an unknown environment and being in another kind of context can be useful there also.
A lot of people who are out there making change need people who have been in situations where they've had to learn really quickly and had to figure it out. Fulbrighters are invariably in situations where every day is different. When you're on a Fulbright, you're always trying to figure it out. So lending that kind of spirit, that resourcefulness to a movement really becomes important. What I'm saying is that Fulbrighters by themselves, by their nature, who have been on this experience, really often have the spirit and also the capacity, individual capacity, to play leadership roles in a lot of what's going on. If you think about the changes going on in the United States and you think about what needs to be done in regard to public health there, they are often uniquely positioned to do those things.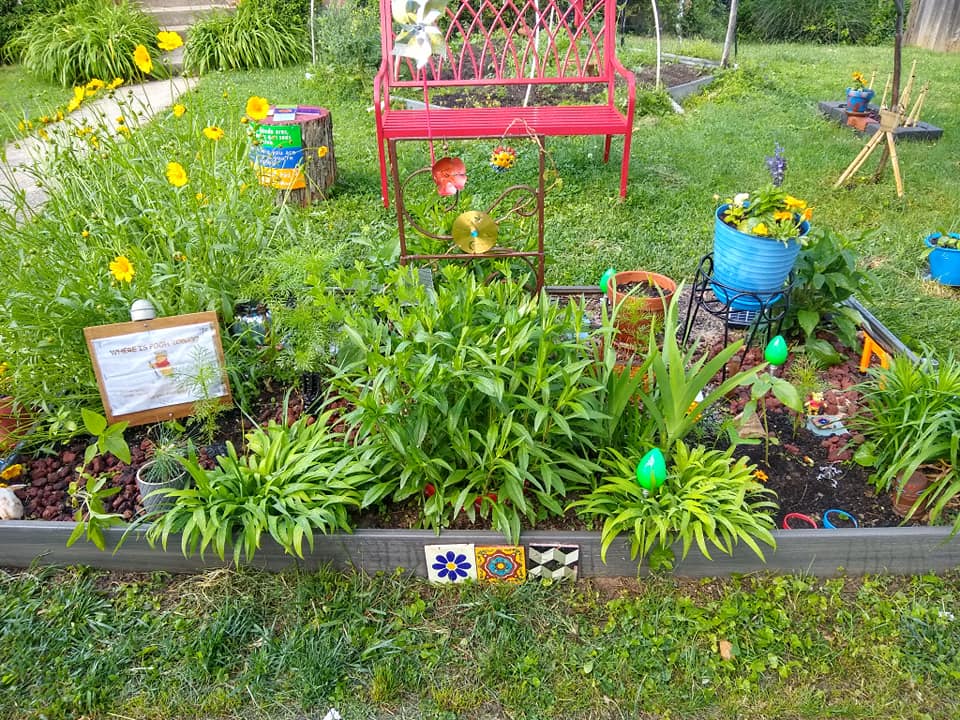 And, as too much cabin-fever can also hinder peaceful thoughts, how have you been getting through lockdown and do you have any tips for the rest of us?
I live in a neighborhood that you can walk around in. So my wife and I walk a lot and we've been out there meeting neighbors that we wouldn't have met otherwise. I've been doing more gardening than I've ever done before. I have a garden in front of the house that I did every year but I've done it a little bit differently this year. I've put little figurines of different characters. Winnie the Pooh is one of the more popular ones I've put in there. The kids often walk by, very young kids, and try to figure out where I've moved Winnie the Pooh in my garden every day. It's just kind of these small things and just watching the kids come by is a fun thing to do.
So taking walks, being outside. I try to once a week make sure that I'm connecting with someone that I have not been connected to and contacting them and just checking and seeing how they are doing. That's good for them but it's also good for me to connect with people that I've lost connection with. And I mean those are little things, I think one of the things to recognize is that there are little things we can do everyday to improve other people's lives and some of these are just getting to know people and contacting people that we wouldn't have contacted in the past. Those are things that carry us through the day. Those are some of the things I'm doing.
Connecting with and getting to know each other is important for many of the things we're seeing today. That was it for our time today. Did you have anything you would like to add?
I would say that there's a lot going on today, at least in the United States, we're dealing with not only coronavirus, social change, looking at issues of racism, which we certainly need to look at which we haven't looked at in the past. There's a lot of things that are converging that we need to look at. During these challenges we have creative ideas, we have people who are willing to take leadership, and we have people that are willing to make the good change that is necessary.
A lot of these people can come from the Fulbright community because Fulbright tends to generate people who have good ideas and are willing to do the hard work. So I'm very hopeful about what's going on. As a career coach, I'm seeing more people who are coming to me who are looking to make a change and to go into a career in an area where they really can have a positive impact. People are often in careers where they feel like they aren't making a difference. Often I get calls where people are just saying I'm just mad about what's going on, I want to make changes to the public health system or I want to make changes to social justice and I want to make this a career. How do I go about doing that? So I work with a lot of people to figure out how to move in that direction. I'm seeing more and more of that and that's really helpful because I'm hopeful that we are seeding a generation that can be the agents of social change that is so important right now.
Thanks for talking to us!
Thank you! Have a great day!