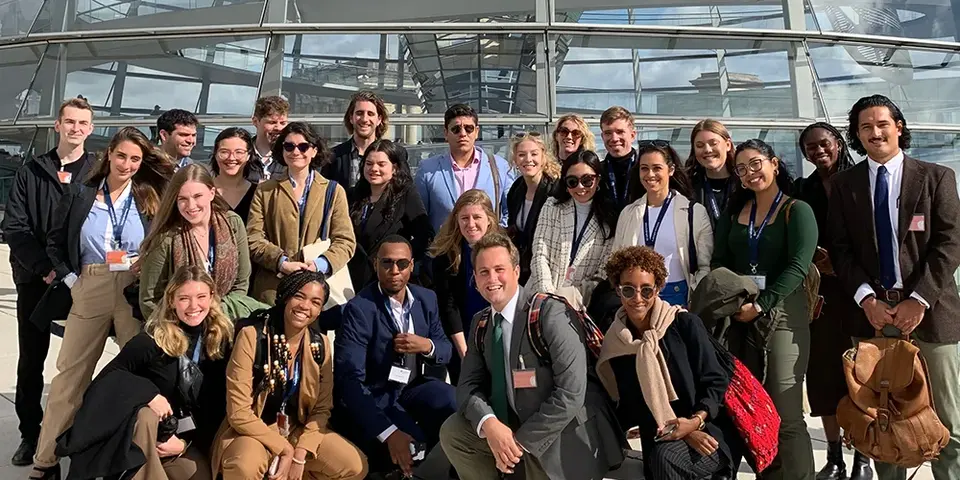 Berlin Capital Program
Program dates: online March - July 2024 and in Germany September 14 - 21, 2024 (application period for 2024 has ended)
What's in the news in Germany? If you are an early-career US journalist or journalism student, the Berlin Capital Program offers a unique and enriching opportunity for professional development in a hybrid format. Beginning in March 2024 with monthly online meetings, the program culminates with an intensive week in Germany in September. The initial, virtually held sessions will introduce you to major program themes and feature guest speakers, in preparation for the group seminar in Germany that offers you a closer look at the German media landscape and a deeper awareness of German and European society. On the ground experience in Germany includes meetings, visits, discussions and workshops with German and US expat members of the media, experts in various fields, government officials, and engaged citizens. You will enhance your understanding of transatlantic issues, expand your professional perspectives and networks, and gain insights to better "translate" the news from one side of the Atlantic to the other. The program, conducted in English, is operated by and fully funded through Fulbright Germany. Read more…
We welcome applications from professional journalists currently working for US media in the USA (as an employee or independent journalist) with fewer than 5 years of work experience in the field; and from master students and graduating seniors (at the time of application, respectively) in the field of journalism or communications at a university in the USA.
We especially encourage applicants who have limited or no previous international experience, whose participation will help them to establish professional networks in Europe and engage them in media coverage of transatlantic issues, and who can share diverse local and regional media perspectives outside of US media hubs.
Fulbright Germany strives to embed diversity, equity, inclusion and accessibility (DEIA) in all aspects of its work. Applications are open to all individuals regardless of their race, color, national or ethnic origin, age, religion or belief, socio-economic status, disability, sexual orientation, gender, or gender identity.
US citizenship, a valid US passport, and permanent residency in the USA; applicants with US-German dual citizenship are not eligible
Applicants must demonstrate a solid professional/academic background and professional interest in the topics of the program
Demonstrated willingness to actively engage in academic and cultural exchange between Germany and the US through shared interests and joint activities
round-trip transportation between the US and Germany
program costs in Germany, including hotel accommodation (single rooms with breakfast), local transportation, excursions, and several meals
health insurance during the seminar
upon program completion, participants may join the Fulbright alumnae:i network
Participants should budget approximately 150 Euro for expenses which are not covered by program benefits. They may extend their stay in Germany at their own expense.
Program participation is subject to current Covid-19 regional policies, the operating status of German host establishments, Germany entry requirements, and transatlantic travel options. More information can be found here.
Application procedure & deadlines
Information about applying for the Berlin Capital Program will be available on this website in due time. You are also welcome to send us a message via the email link below if you would like to be included on our distribution list for this program.
We recommend that you regularly visit our website to learn about opportunities for early-career journalists.
Please note Fulbright Germany's privacy policy.
Other programs for undergraduate and graduate students from the U.S.
Apply now!

Professional Development in Germany

Professional Development in Germany
Item 1 of 5