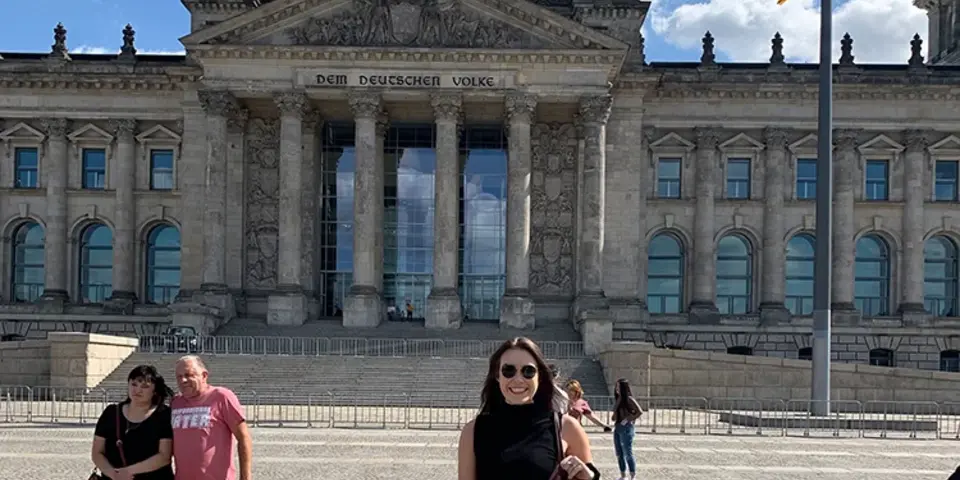 Apply now!
English Teaching Assistant Grant
Apply now through October 10, 2023, 5:00 p.m. Eastern Time
Interested in teaching about the USA? The Fulbright English Teaching Assistant Grant (ETA) in Germany offers you the opportunity to help strengthen the educational and cultural relationships between the United States and Germany by assigning you a ten-month assistantship in the teaching of the English language and American studies at all types of German schools. In keeping with the commitment of the Fulbright Program to diversity, equity, inclusion, and accessibility (DEIA), the ETA program also seeks to broaden students' understanding of DEIA and to encourage the development of new perspectives and critical thinking. Your responsibilities as an English Teaching Assistants therefore may include designing and teaching units on these topics in consultation with the respective host school English teachers. Read more about the program and the ETA profile here.
The program is administered by Fulbright Germany in close cooperation with the Pädagogischer Austauschdienst (PAD) in Bonn.
US students who will have completed at least a Bachelor degree, typically in German or German Studies, by the time they begin their teaching assignment in Germany. Students from other disciplines will be considered if they have a good command of the German language (at least two years of college-level German instruction).
Fulbright Germany strives to embed Diversity, Equity, Inclusion and Accessibility (DEIA) in all aspects of its work. Applications are open to all individuals regardless of their race, color, national or ethnic origin, age, religion or belief, socio-economic status, disability, sexual orientation, gender, or gender identity.
US citizenship; applicants with US-German dual citizenship are not eligible
Sound academic background
Demonstrated willingness to actively engage in academic and cultural exchange between Germany and the US through shared interests and joint activities
Stipend of currently Euro 1.000/month
Health insurance
One-time international roundtrip travel allowance
Other benefits include participation in Fulbright orientation meeting and DEIA workshops, teaching toolkits, the administrative support through Fulbright Germany, and access to the international network of Fulbright grantees and alumnae:i
Application procedure & deadlines
The application cycle usually opens in April and ends in October. During this time the Institute of International Education (IIE) through which US students must submit their Fulbright application publishes the respective current application guidelines. Please check their website first. For preliminary guidance about the ETA program in Germany, you might want to check here.
If you are still enrolled at a university we recommend to consult the Fulbright Program Advisor at your university. If you are no longer affiliated with a university, please register for one of IIE´s information sessions about the Fulbright ETA program.
Applications must be prepared in the spring/summer preceding the year in which the scholarship is due to begin. For example, the application for a Fulbright grant in the academic year 2024-25 (begins September 2024) must be submitted in October 2023. If you are interested to apply make sure to get in touch with your Fulbright Program Advisor well in advance.
All applications will be reviewed by special selection committees, with the final assessment made by a selection panel in Germany. Grant nominations are made after the completion of the award competition and depending on funds available.
Please note Fulbright Germany's data protection declaration.
Other programs for undergraduate and graduate students from the U.S.
Apply now!

Professional Development in Germany

Professional Development in Germany
Item 1 of 5