11.10.2023
Fulbright Kommission
Fulbright Diversity Reunion 2023
Reflecting on a remarkable evening at the Fulbright Diversity Reunion in Berlin last weekend!
Celebrating 17 years of our diversity programs' impact, our Diversity Fulbright Alumni:ae came together to share personal journeys, insights, and struggles in inspiring panel talks and workshops. We were very grateful for the welcome remarks of Fulbright Germany Executive director, Hakan Tosuner and the Chief of the Fulbright Germany board, Robert Greenan, who also shared insights of his very own personal academic journey.
Fulbright Alumna Shamaila Ghaffar did an exeptional job moderating the evening, keeping everything together in a wonderfully graceful manner.
An enriching day of learning and growth at our event: We delved into the interesting workshop on Jewish identities by Kiril Denisov, explored the art of storytelling with Safin Ilyas and giving back as a social act – moderated by Jeff Peck. We are thankful to have attended Tuğrul Aras' insightful workshop on personal branding via LinkedIn! Togrul's expertise and tips have empowered us to create a standout professional presence on this platform. One of the creative highlights was the screening of ISTINA (Truth) under the attendance of Fulbright alumnus Christian Sieé und Tamara Denić.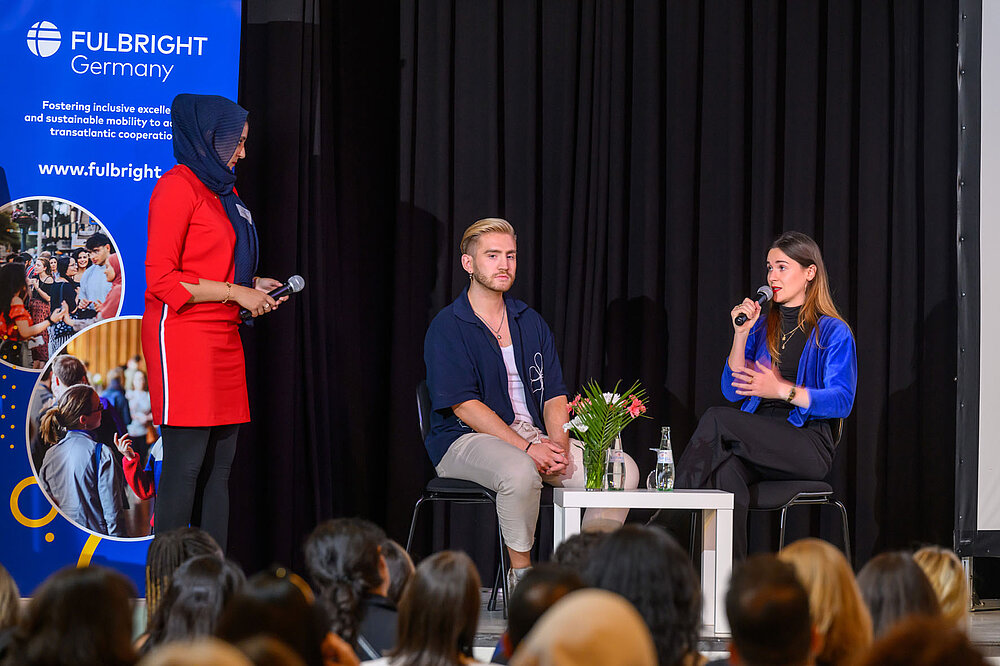 - A diverse blend of insights, connecting our roots, passions, and professional journeys.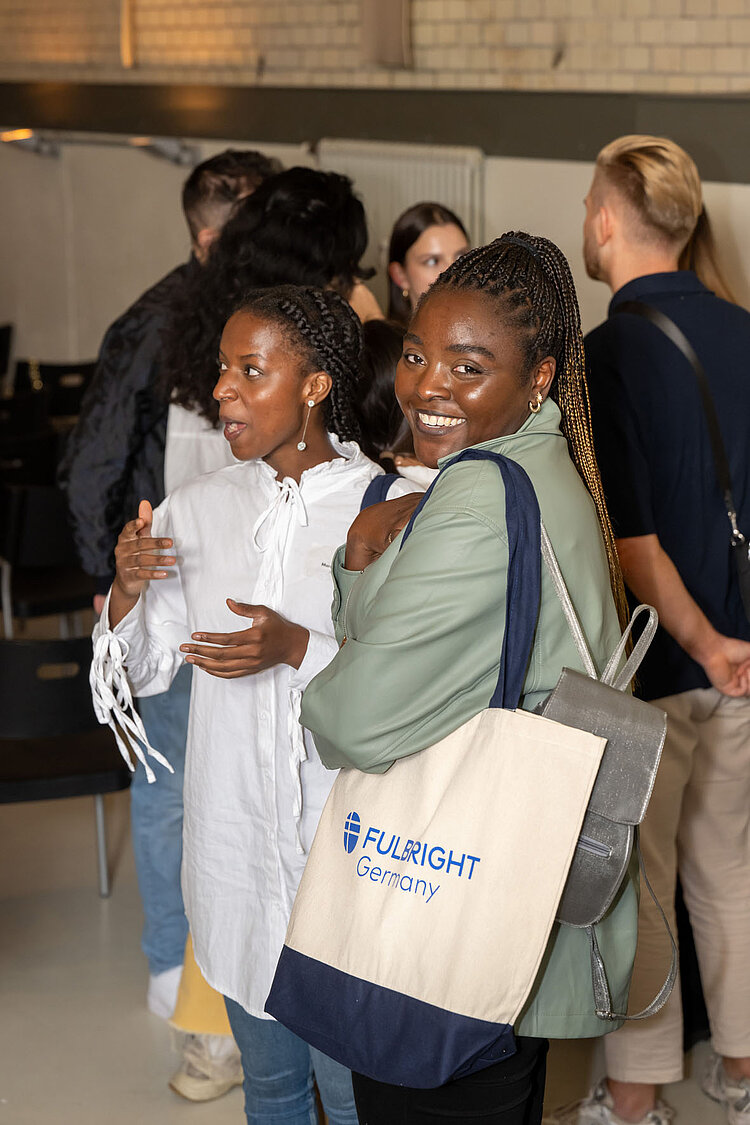 Giving Back and Going Forward!
The Fulbright Diversity Reunion was a testament to the transformative journeys of Fulbrighters and the power of giving back to support their endeavors. Partners like EY, Freshfields Bruckhaus Deringer, German Fulbright Alumni Association, Hengeler Mueller, McKinsey & Company, as well as individual members such as Joseph Kristensen, Prof. Dr. Klaus Liepelt, Thomas Oechsner, Rolf Schnelle, and Jürgen Simon played a pivotal role in shaping this event and the future of Fulbrighters.
The Association of Friends and Sponsors of the German American Fulbright Program e.V. (VFF) emerged as a driving force behind the Fulbright Diversity Initiative, particularly in private-sector engagement. A key component of the "One Fulbright Community," which includes Fulbright Germany and the German Fulbright Alumni Association, the VFF raises awareness and actively supports this communal endeavor.
However, giving back goes beyond financial contributions. It's about dedicating your time, sharing resources, and spreading the word about Fulbright programs. This active involvement fosters a more interconnected and interdependent civic society, with members who both give and receive. It creates a network of engaged and empowered individuals who view the global Fulbright Community as a means of social action to make the world a better place. Consequently, the Diversity Initiative remains at the top of Fulbright's priorities.
The Fulbright Diversity Reunion in Berlin was a testament to the tremendous impact of the VFF's institutional members and their generous contributions. McKinsey, Ernst & Young, and others have played a vital role in supporting Fulbrighters on their transformative journeys into the world.
The VFF sets an example of how "giving back" contributes to the opportunities of all Fulbrighters. As part of the "One Fulbright Community," it furthers the need to support the communal endeavor. Giving back means not only giving money but also dedicating personal time, offering available resources, and, above all, spreading the word about Fulbright programs.
Joining a network of engaged individuals who understand the benefits of this work contributes to civic and global development, ultimately promoting social action to make the world a better place. The Fulbright Diversity Reunion was an inspiring reminder of the lasting influence of Fulbright Diversity programs, highlighting the importance of embracing our authentic selves and making a meaningful impact.