18.10.2023
Fulbright Kommission
Fostering Global Education: Fulbright Seminar in Berlin 2023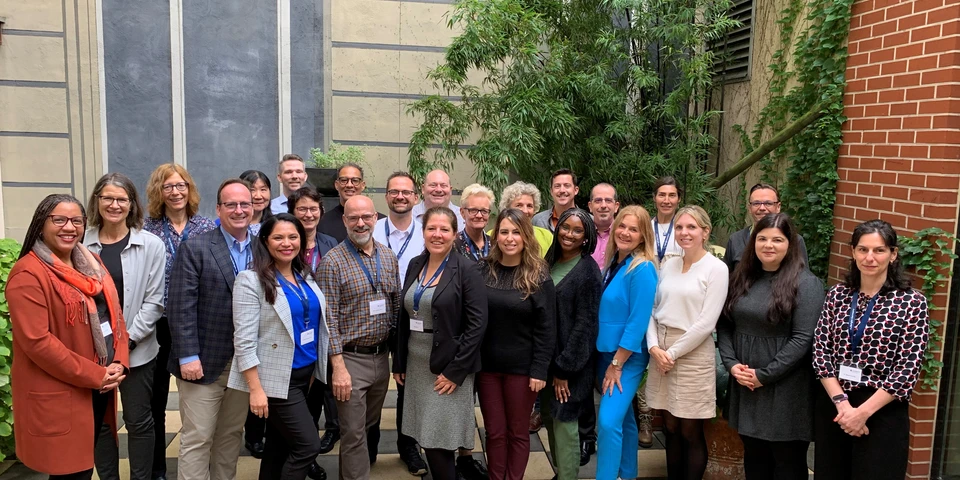 Fostering Global Education: Fulbright Seminar in Berlin 2023
The Fulbright Program is known for its commitment to promoting international higher education and fostering cross-cultural understanding. The Fulbright Seminar for U.S. Administrators in International Education and the Fulbright Workshop for German & U.S. Administrators in International Education held in Berlin in October 2023 are both prime examples of this dedication. It is through programs like these that Fulbright Germany contributes to vibrant transatlantic exchanges.
The 12 day Seminar for U.S. Administrators in International Education offered an overview of recent developments in higher education in Germany through lectures and workshops. Campus visits at various Berlin higher education institutions and to the University of Potsdam as well as three-day subgroup visits to Technische Dresden, Universität Duisburg-Essen or Technische Hochschule Würzburg-Schweinfurt highlighted the diversity of the German higher education landscape and its institutions.
During the first week of the seminar in Berlin, the U.S. Administrators were joined by German colleagues to exchange on recent developments in U.S. and German international higher education, share best practices, and to discuss on best strategies to strengthen transatlantic exchange. The joint workshop brought together professionals from the United States and Germany to share best practices, insights, and experiences, with the aim of enhancing the international education landscape. The German Administrators represented a select group of alumni with whom we at Fulbright Germany were also discussing strategies and ways to strengthen transatlantic exchange in higher education, as well as assess both current and future initiatives of Fulbright Germany.
Both the Seminar for U.S. Administrators in International Education and the joint Workshop for U.S. & German Administrators exemplify the Fulbright Program's dedication to advancing international education and fostering lasting partnerships. The knowledge shared and relationships built during this event are sure to have a profound impact on the future of international education between the United States and Germany. As we celebrate the successful conclusion of the 2023 Fulbright Seminar in Berlin, we eagerly anticipate the positive changes these administrators will bring to their respective institutions and the broader international higher education landscape.