Celebrating Gratitude: Fulbright Germany's Thanksgiving Gathering at Forum Factory, Berlin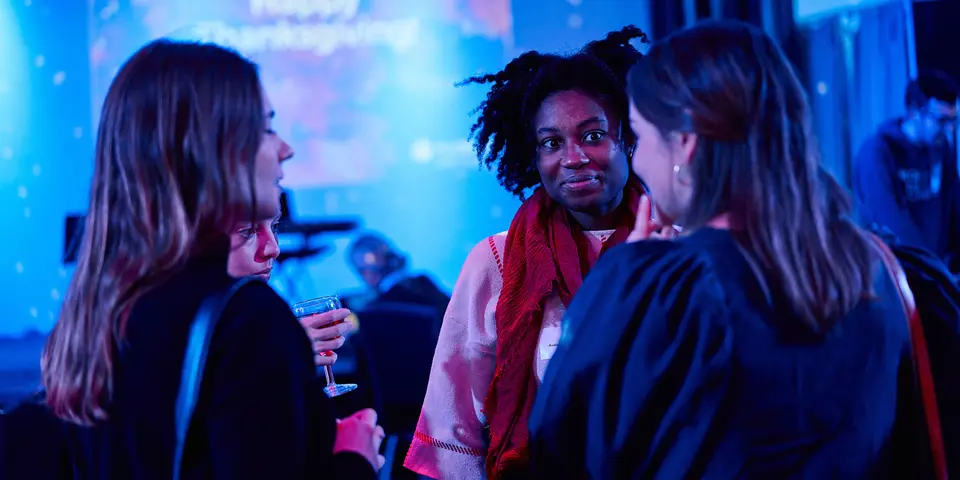 Fulbright Germany Thanksgiving Dinner in Berlin
On Monday, the Fulbright Germany's vibrant community in Berlin came together at Forum Factory for a heartwarming Thanksgiving celebration
The event kicked off with warm welcome remarks by our Board Chair, Robert Greenan, US Embassy, and his Co-Chair Anke Reiffenstuel, Federal Foreign Ministry. Fulbright Germany's Executive Director, Hakan Tosuner, added his warm welcome.As the festivities unfolded, TV-Journalist Nadine Brecht lent her expertise as the event's gracious moderator, guiding us through the evening's program.We extend our gratitude to all who participated, making this event a memorable experience.
Together, we look forward to continued collaboration and fostering the Fulbright spirit of cultural exchange.Stay tuned for more enriching Thanksgiving events in collaboration with our regional partners from the German-American Institutes throughout Germany. Special thanks go to Amerikahaus NRW, German American Institute Saarbrücken and German-American Institute Sachsen.
Reflecting on Thanksgiving, let's consider its roots and the privileges we all share. Embracing this pause beyond the feast, we acknowledge the history and invaluable contributions of First Nations, weaving their legacy into our collective gratitude.